You can't attract customers if your store doesn't provide something distinctive. In addition to offering at least some products that are not sold anywhere else, establishing a unique appearance and atmosphere across your entire store is an excellent way to bolster your brand and set yourself apart from the other businesses in your industry. Custom Store Fixture made specifically for your business provide the basis on which the rest of your visual merchandising may be defined and improved.

Your custom store fixture aren't just sitting there doing nothing.
Sure, they exhibit your groceries, clothing, fishing gear, or nail polish, but they also do two other things:
Attract customers' attention to certain merchandise departments and items across your business.
Make a significant contribution to the overall atmosphere.
Remember that today's buyers demand a terrific experience as well as outstanding items.
What makes custom retail store fittings superior to pre-fabricated retail fixtures?
Custom store fixtures improve overall visual merchandising, make your space more flexible, make it easier to meet ADA or other regulatory needs, and drive purchasing, all while assisting you in cost control.
You can make one-of-a-kind Custom Store Fixture components out of almost any material:
Acrylic, Plastic, Polycarbonate or Glass
Marble, Stone, or Ceramic
Wood, Plywood, Veneers, Laminates or Fiberboard
Fabric or Paint
Aluminum, stainless steel or decorative metals such as copper
With custom retail fixture design, you may construct anything, regardless of its shape or size. Fixtures can be permanently installed, moved easily, stacked and mixed and matched, or placed on the wall. You may also choose to build exhibitions that are either closed or secured for added protection.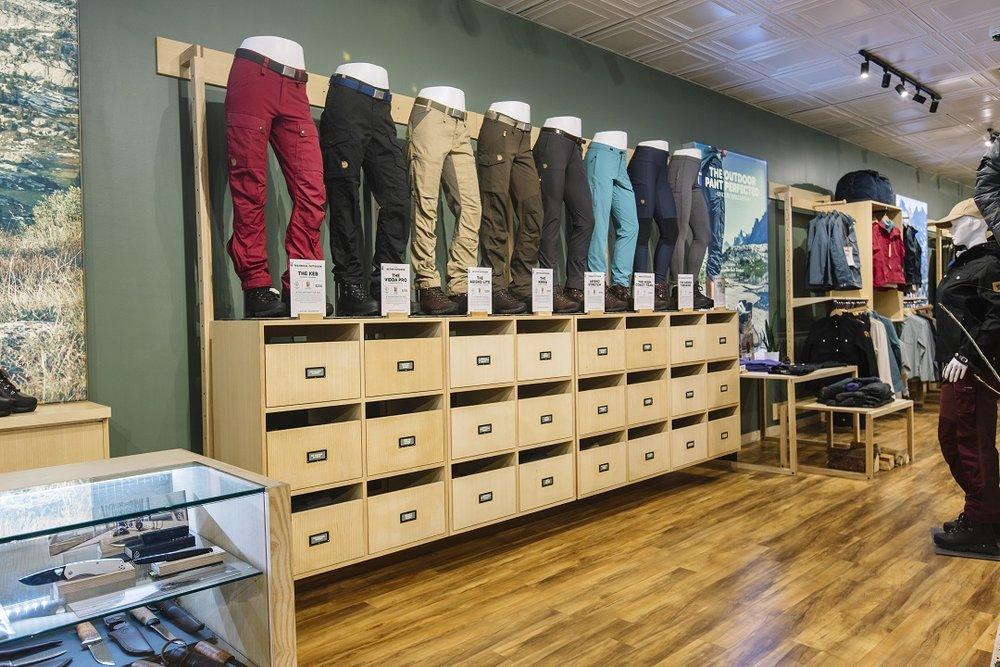 Custom Retail Store Fixtures are both Aesthetically Pleasing and Useful.
Although pre-fabricated store fixtures may be the answer that is quickest and easiest to implement, it is important to consider the likelihood that they will meet all of the requirements for your store. This is not a good thing. Custom retail fixture design permits exact measuring.
Ready-made fixtures are available in "typical" shapes such as rectangular, square, and maybe circular. Custom retail fixture design allows you to express your uniqueness in ways that showcase your store's actual identity. Curves can be wild (or subtle). Countertops with curves. Cabinets in "waves." Don't forget the wheels to make mobile fixtures that you can move about and re-combine to create whole different looks.
Ready-made fixtures are available in "standard" materials such as metal, laminate, and possibly wood. Custom design can use regularly used materials in novel ways, or it might feature a diverse range of less evident building materials such as aluminium, stainless steel, acrylic, and glass.
You have the ability to generate the exact look and functionality that you desire. To achieve an air of refined elegance, complement exquisitely carved wooden cabinets with a magnificent marble countertop (and a tough-as-nails working surface). On a shallow slatwall shelf, display video monitors (or an interactive touch-screen), with security cabinets placed below.
Custom designs can include colour! Who says that the hardware in your store needs to be white or chrome? Zzzzzz.
The variety of Custom Store Fixtures that can be built is reflected in the adaptability of custom design.
Display counters, cabinets and tables.
Sales counter or other types of cash wraps and customer service desks.
Hanging rods and racks.
POP retail displays.
Retail Store Shelving.
Free standing floor retail displays.
Sales counter or other types of cash wraps and customer service desks.
Wall-mounted retail displays.
The mood that your consumers anticipate is created by the materials and textures of your store, which should either mix in perfectly with the products you sell or dramatically contrast with them (or something entirely unexpected). You are able to construct a brand by incorporating your official colours, as well as your company's name and emblem. You also have the option of incorporating elements that offer supplementary information or different forms of self-service.

The focus of a Custom Store Fixtures design is on the consumer. You can ensure that customers will have a more positive and memorable experience if you design fixtures that simplify and streamline the shopping and selection processes. In the end, the fixtures you choose for your business should have the capacity to suggest to potential customers that your establishment is a "must-visit," due to the fact that there is obviously no other store just like it.
Competition is too high for your store to have a generic, basic or uninteresting appearance.
Whether you are selling groceries, sporting goods, shoes, or jewelry, the selection of custom retail store fixtures and the manner in which you personalize them contribute to the creation of an ambience that is appealing, pleasant, and efficient, all of which are conducive to making sales. Shoppers have an easy time locating the items they seek or coming across something unexpected that compels them to research further.
You have to differentiate yourself from the competition, but you must do so in a way that is consistent with your brand and your target audience. What does it feel like to be in the "comfort zone" of one of your customers? Do you want your warmth and coziness, functionality and efficiency, elegance and sophistication, the mainstream or the alternative? The use of customization ensures a consistent and cohesive appearance that meets the expectations of your customers.
Retail display fixtures are more than just "something to hold your stuff," as some people think of them. They have to be a part of the process of developing your store from the very beginning if you want them to be successful sellers for you. If you put off thinking about and purchasing fixtures until after everything else is finished, you will end up with an overall look that is not cohesive and does not work. It's possible that the fixtures will detract from the atmosphere you've worked so hard to create, rather than acting as important components of the setting.
Expert assistance ensures correct personalization.
If you work in retail, you almost certainly have what's known as a "good eye." In spite of this, choosing and organizing the custom store fixtures in a space is both an art and a science. To put everything together in a way that generates maximum effect and provides an ambience and shopping experience that entices customers to remain and buy, it takes experience in both store and fixture design.
Getting assistance from a professional will guarantee that you begin with the correct store plan, allowing you to make the most of the fixtures you select. Even if you have to pay a little bit more up front for a bespoke design, you should consider this an investment in the ability of your store to generate profits. Used retail store fixtures can be customized to fit your store's aesthetic while keeping costs down if you are a very tiny or brand new company.
There are several shops that specialize in selling one-of-a-kind items only. However, the majority of stores face competition, which means that customers have the option of purchasing their goods from you or somewhere else. However, having retail store fixtures that are made specifically for your establishment can set it apart from competitors by producing an inviting and captivating ambiance. This, in turn, draws customers' attention to the products you sell and makes your establishment the destination of choice for retail therapy.
Contact Us for all of your Custom Retail Store Fixturing needs!
Working with a experienced Custom Store Fixture specialist provides building owners with the additional benefit of having peace of mind that the unique retail displays in their establishments will be developed and installed with proficiency. Professionals are present to monitor each step of the process from beginning to end. You will have access to the assistance of trained professionals throughout the entire process, beginning with the selection of the wood and ending with the incorporation of the finished product into your construction. 
Get in touch with Boreal Architectural right away to get information on all you need to know about retail store fixtures.